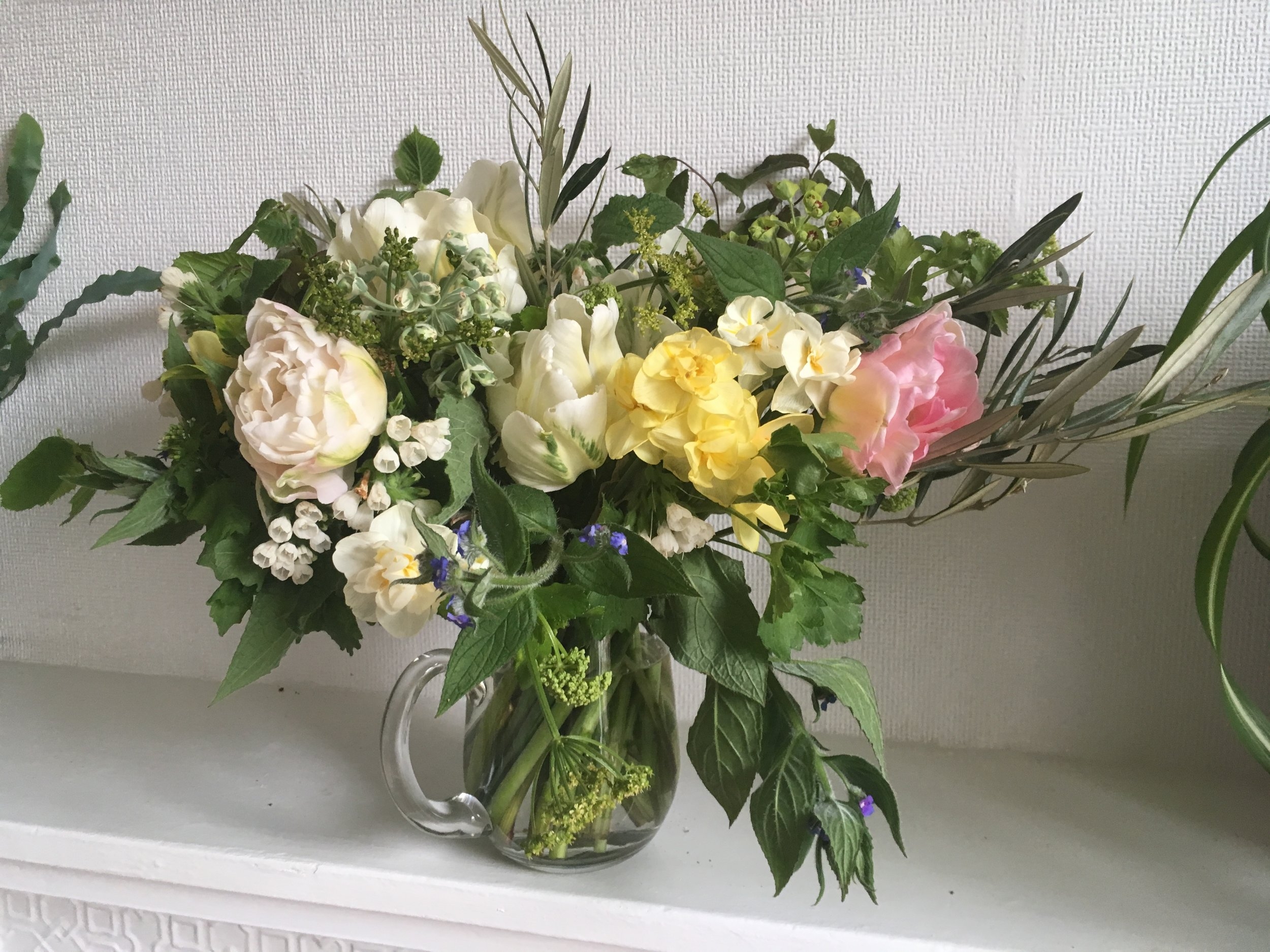 Spring Bride's Bouquet
March Wedding
Dried Bridal Shoot
Floral Wall Hanging
Gathered Bridesmaid's Bouquet
March Wedding Bouquet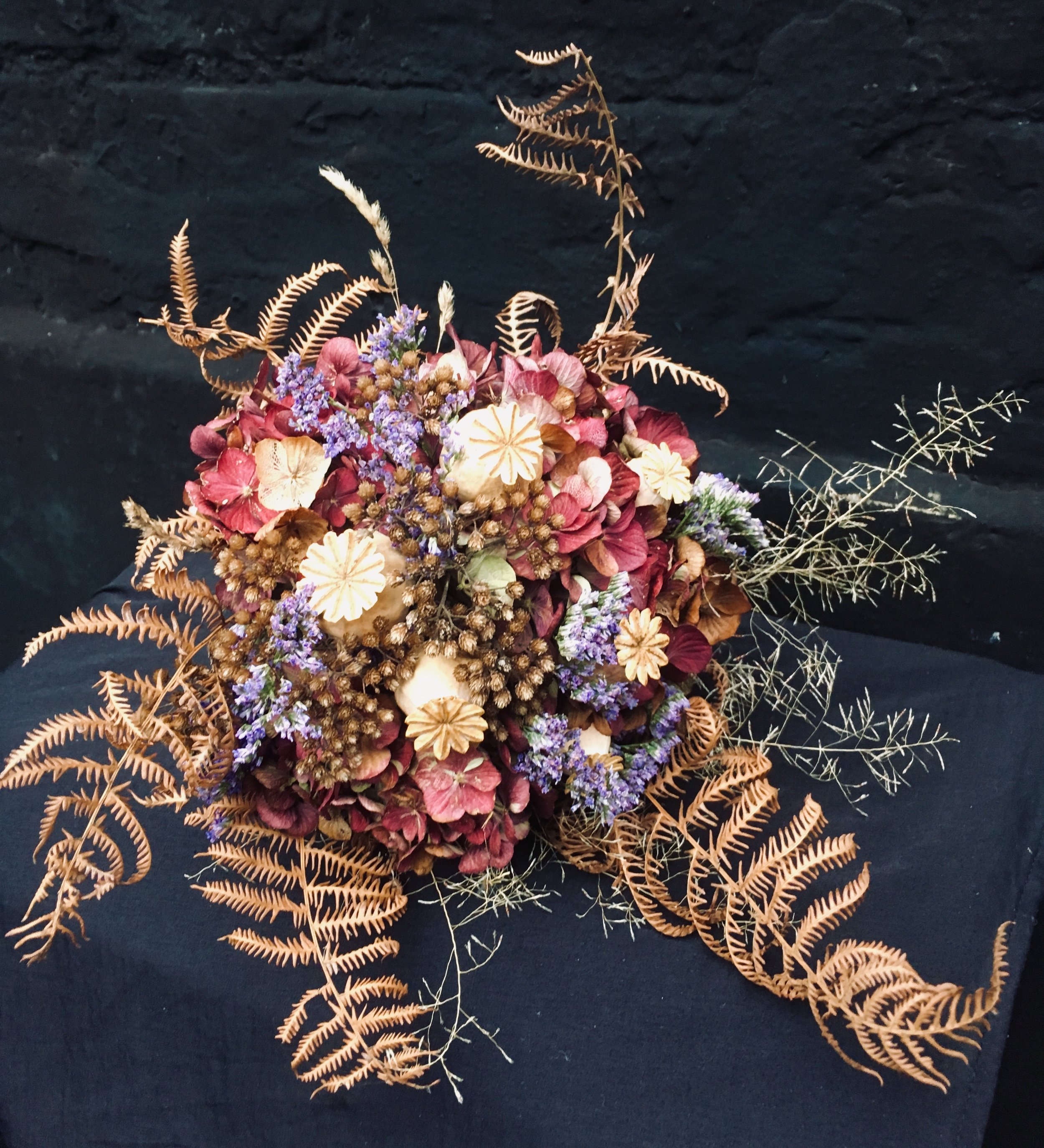 Everlasting Love Bouquet
Elegant Low Table Centre
Mantlepiece Installation
November Vase
Natural Christmas Arrangement
Sympathy Flowers
Dried Flower Crown
Renaissance Feast Table Centre
Best of Autumn Vase
September Sunshine Vase
Wildfolk Compostable Wreath
Small January Table Arrangement
Bride's Autumn Bouquet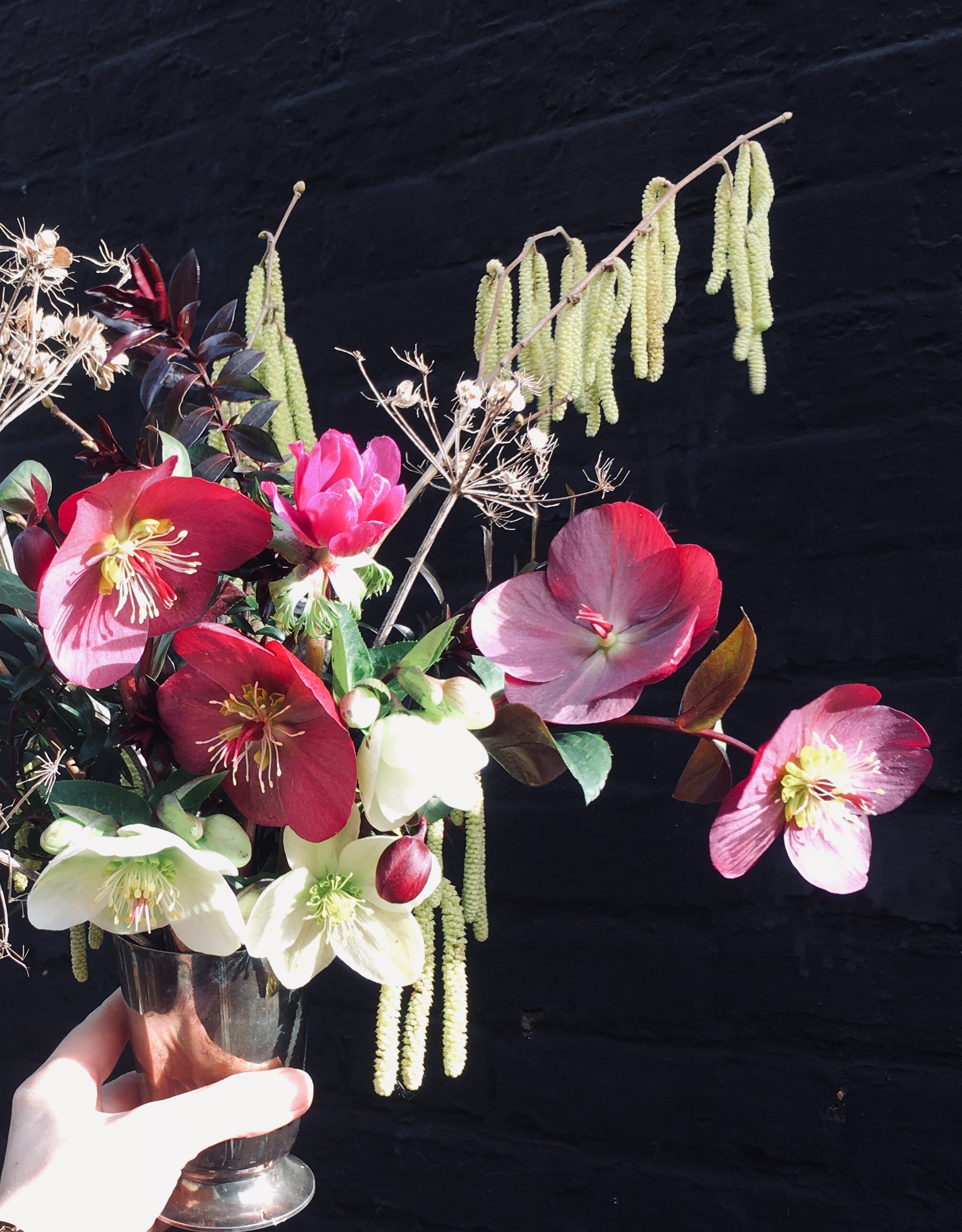 Valentine's Day
Dried Floral Installation
October Bridesmaid's Posy
Bridesmaid's Summer Posy
Little Dried Table Pots
Vase of Rom-anse
Bright October Vase
Fiery Autumn Table Centrepiece
Pastel Punch Vase
September High Tea Arrangement
Sumptuously Scented Bouquet
Flowergirl Meadow Posy
Meadow Bridesmaid's Posy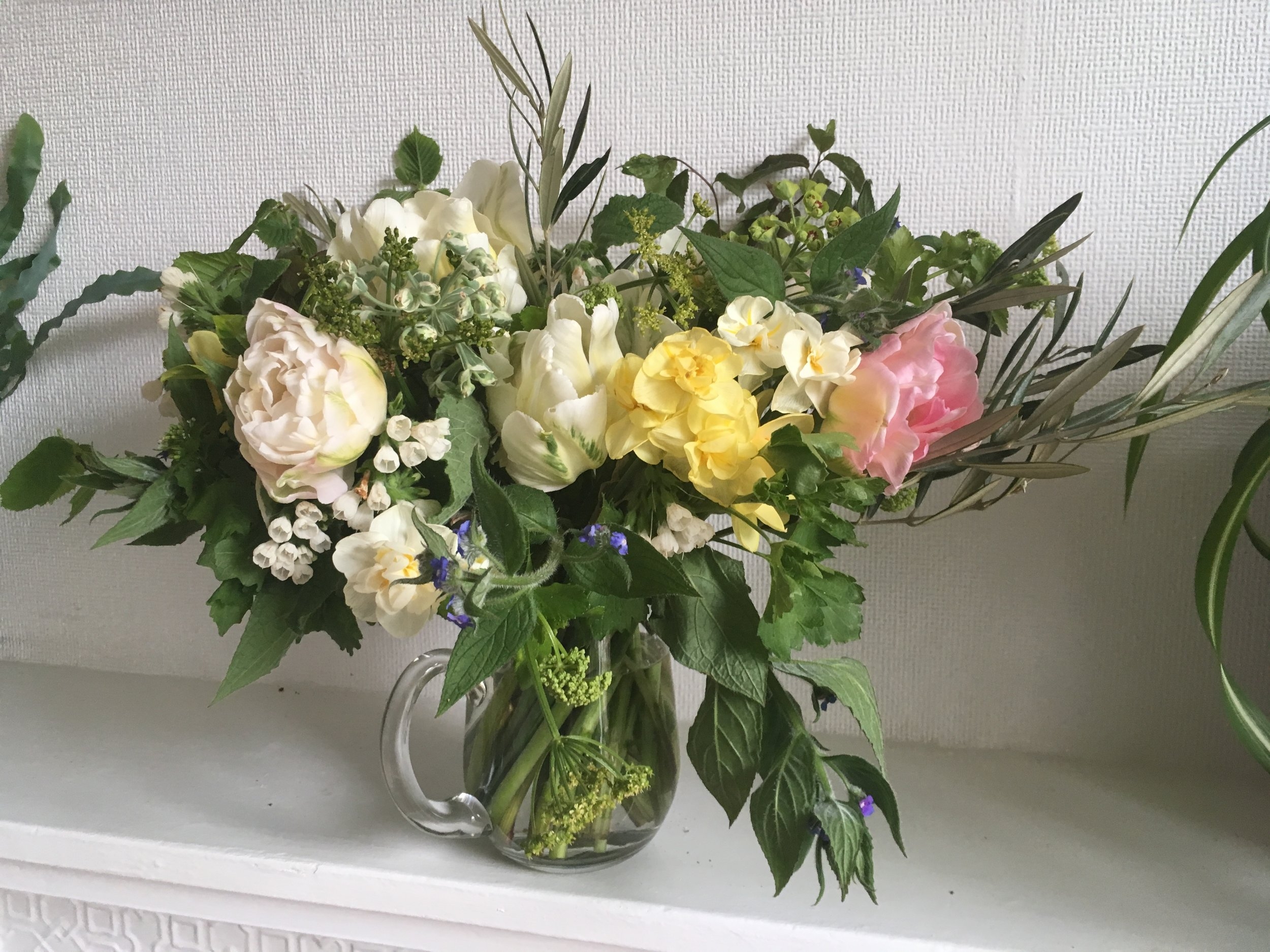 Spring Bride's Bouquet
Tulips, euphorbia and olive plus wild comfrey, wood anemone and alexanders.24 April 2018
March Wedding
Dried Bridal Shoot
Floral Wall Hanging
Gathered Bridesmaid's Bouquet
A 'fresh from the farm' look of pink roses, astrantia, cornflowers and other wildflowers - perfect for a natural, gathered feel.
March Wedding Bouquet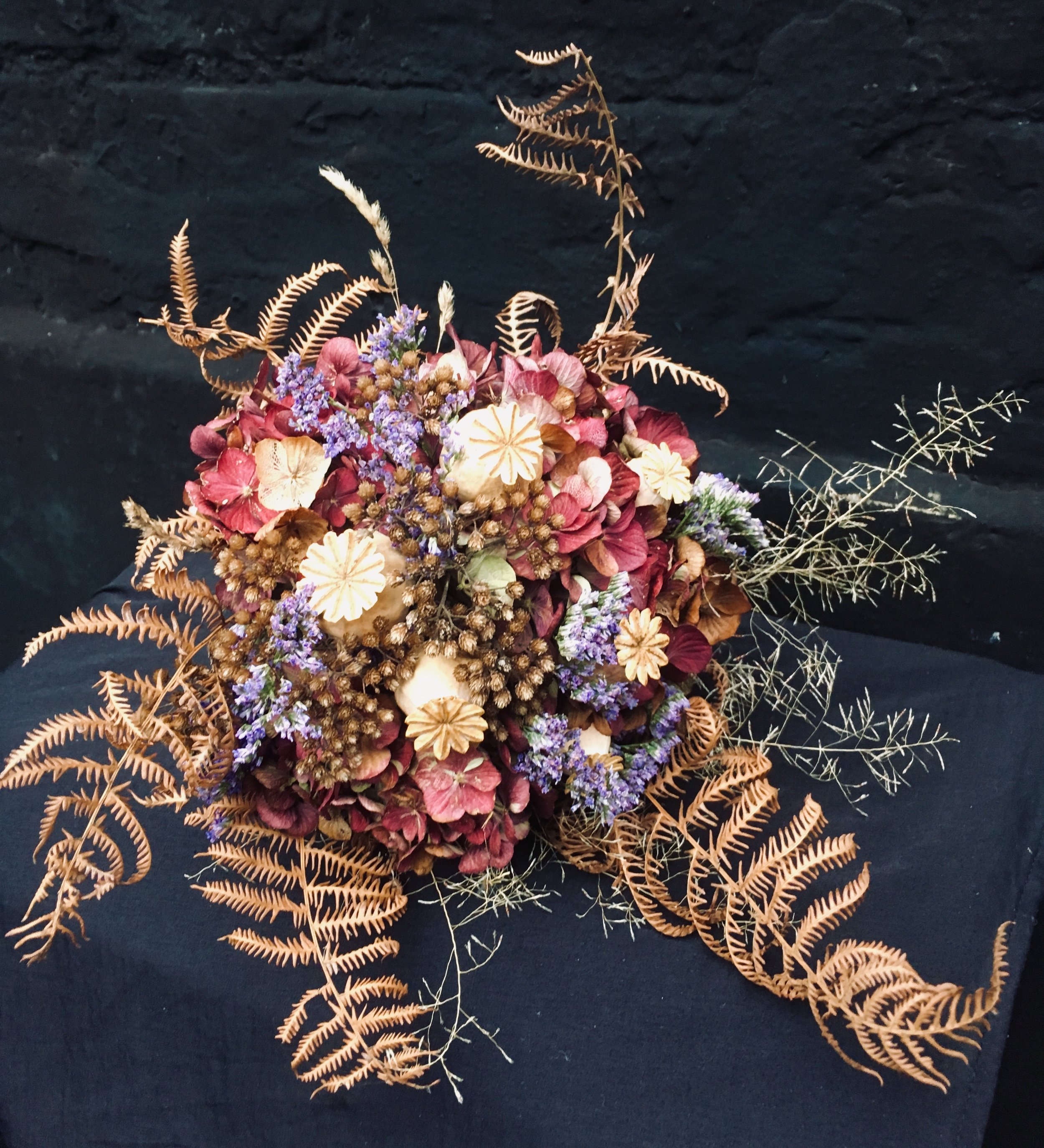 Everlasting Love Bouquet
Elegant Low Table Centre
Simple yet striking low table centre, This is one of my favourites. Cafe au lait dahlia, thistles and fennel.September 2018
Mantlepiece Installation
November Vase
Natural Christmas Arrangement
Sympathy Flowers
Dried Flower Crown
Renaissance Feast Table Centre
Autumnal urn arrangement - sedum, snapdragons, sunfower, verbascum and hollyhocks.October 2018
Best of Autumn Vase
September Sunshine Vase
Big and blousy top table arrangement - dahlias, marigolds, dianthus and fennel.
Wildfolk Compostable Wreath
Small January Table Arrangement
Bride's Autumn Bouquet
Autumnal tones with red roses, white and pink dahlias, black, red and orange rosehips plus dried honesty and poppies. October 2018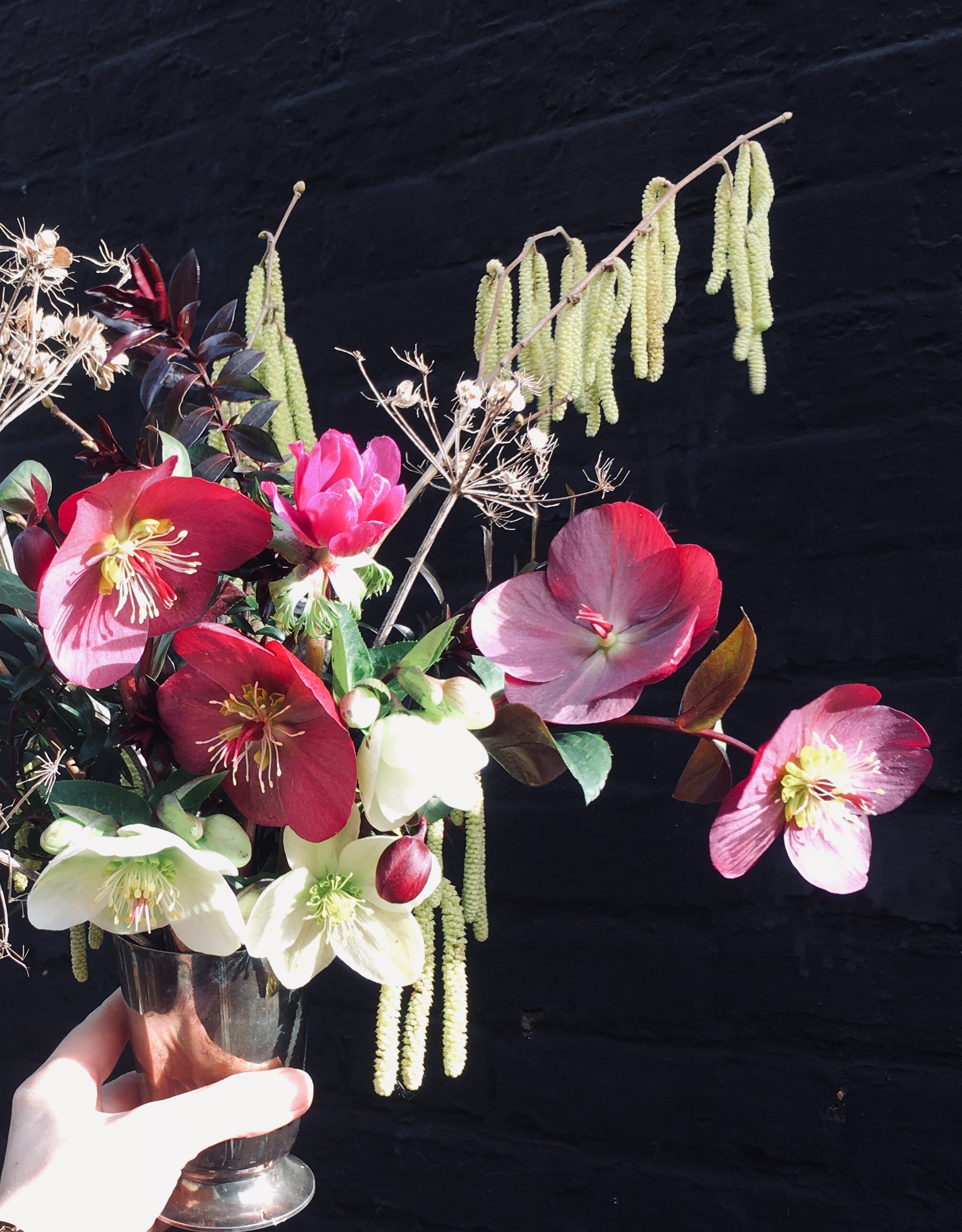 Valentine's Day
Dried Floral Installation
October Bridesmaid's Posy
Beautiful late summer sun bridal palette to work with! Cafe au lait dahlias, snow princess marigold, lime green nicotiana and fennel.October 2018
Bridesmaid's Summer Posy
Blue cornflowers, white nigella, yellow roses and foraged foliage.
Little Dried Table Pots
Vase of Rom-anse
Cafe au lait dahlia, verbascum cosmos, borage, astrantia, snapdragons and grasses. Beautifully wild vase arrangement.
Bright October Vase
Glorious selection of seasonal brights for October - asters, snapdragons, cosmos, dahlias and rosemary.October 2018
Fiery Autumn Table Centrepiece
Reflecting the hues of autumn with dahlias and rosehips.
Pastel Punch Vase
A powerful bouquet of late summer flowers - dahlias, hollyhocks and verbascum.
September High Tea Arrangement
Roses, blackberries, rose hips and seed cases.Spetmber 6 2017
Sumptuously Scented Bouquet
Lilacs, stocks, wild red campion and geranium made this a bouquet to remember - the smell was absolutely divine. May 2018
Flowergirl Meadow Posy
Lavender, calendula, allium and roses. Wild wood anemone, scilla and forget me not.11 May 2018
Meadow Bridesmaid's Posy
Dainty gathered bunch of nicotiana, purple cornflowers, fennel, bunny tails and hollyhocks.
1
2
3
4
5
6
7
8
9
10
11
12
13
14
15
16
17
18
19
20
21
22
23
24
25
26
27
28
29
30
31
32
33
·
·
·
·
·
·
·
·
·
·
·
·
·
·
·
·
·
·
·
·
·
·
·
·
·
·
·
·
·
·
·
·
·